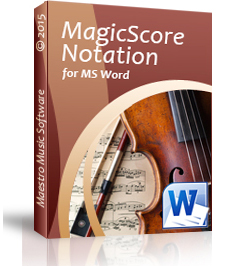 MagicScore Notation for MS Word 8 combines all of the power and features of the MagicScore Notation software with the convenience of being able to dynamically place music notation into any MS Word document with a single mouse click. The downfall of most music notation programs is that in order to place a score into a word processing document the user must paste an image of the score into it. Once it is there the notes cannot be changed without deleting it and starting over. MagicScore Notation for Microsoft Word solves this problem by allowing you to edit the notes on the page simply by clicking on them from within the word processor itself.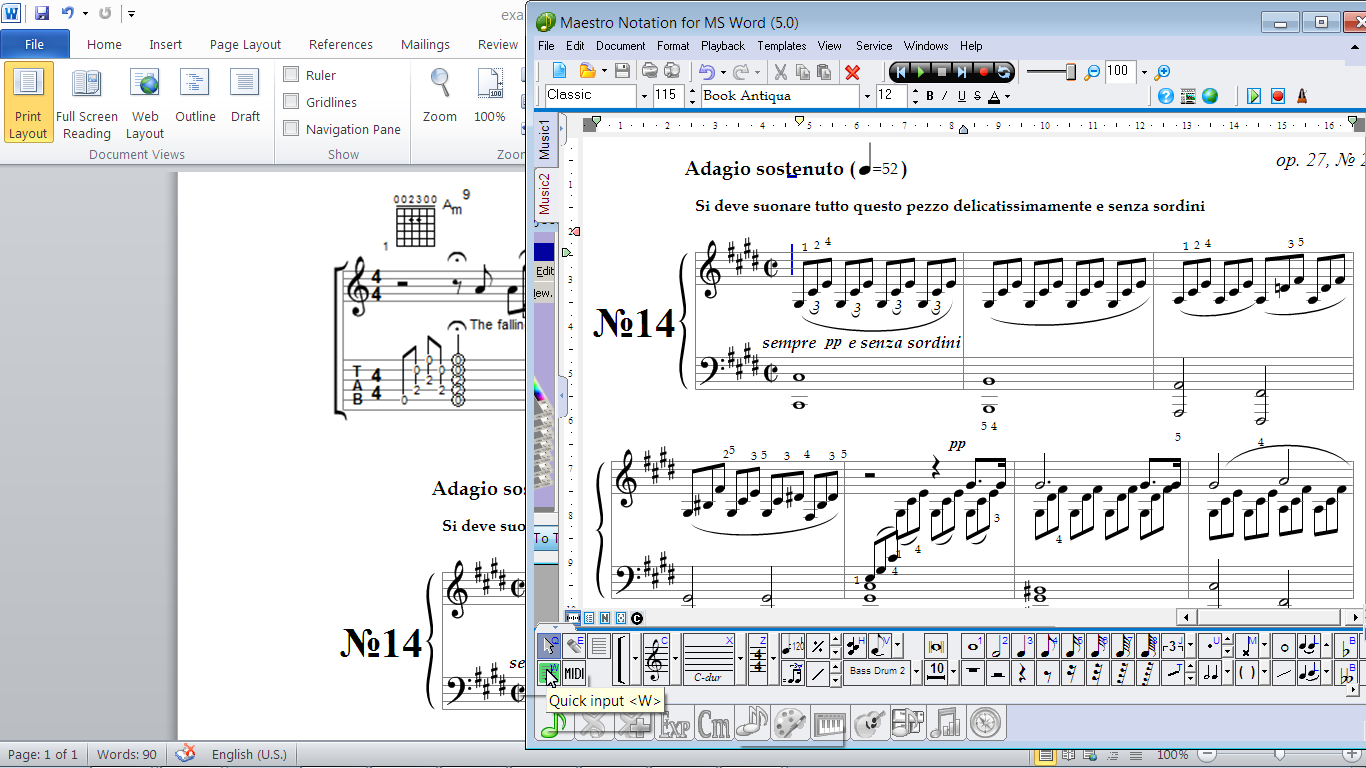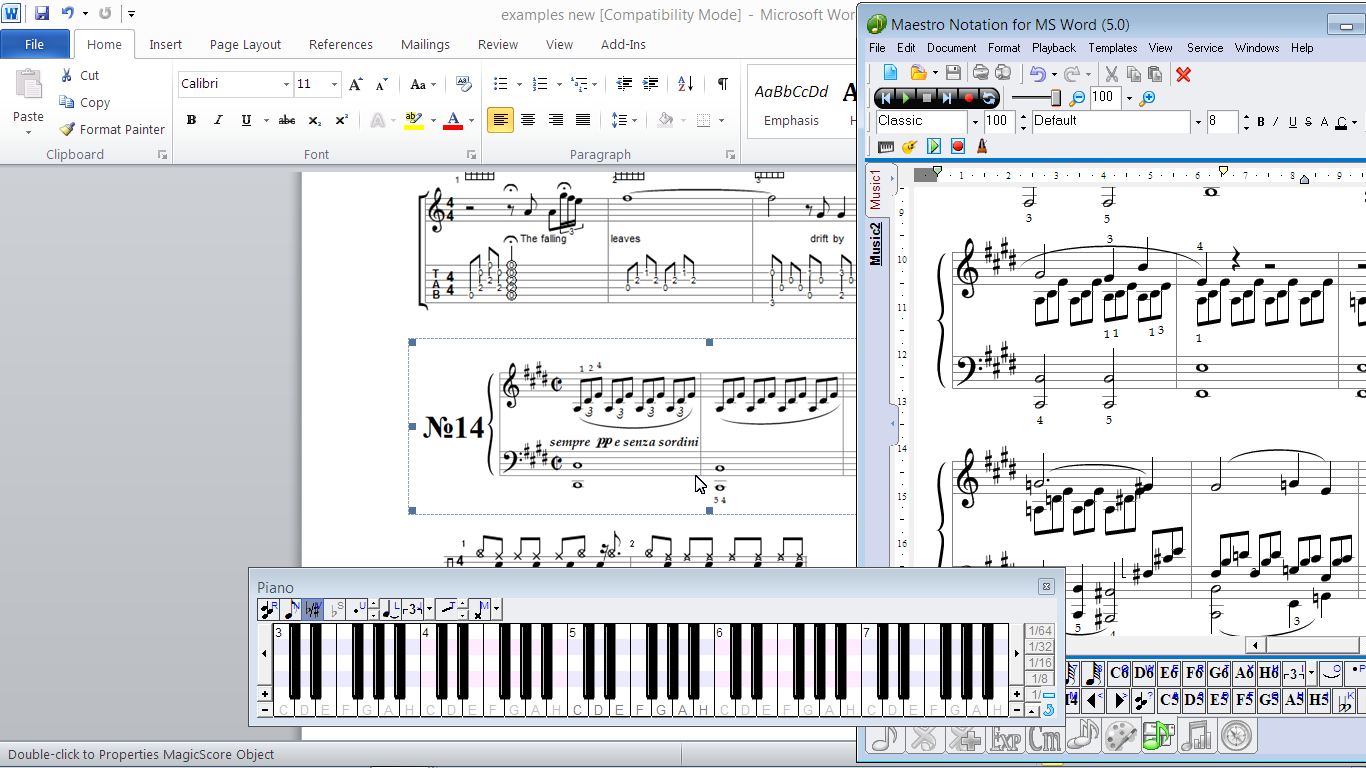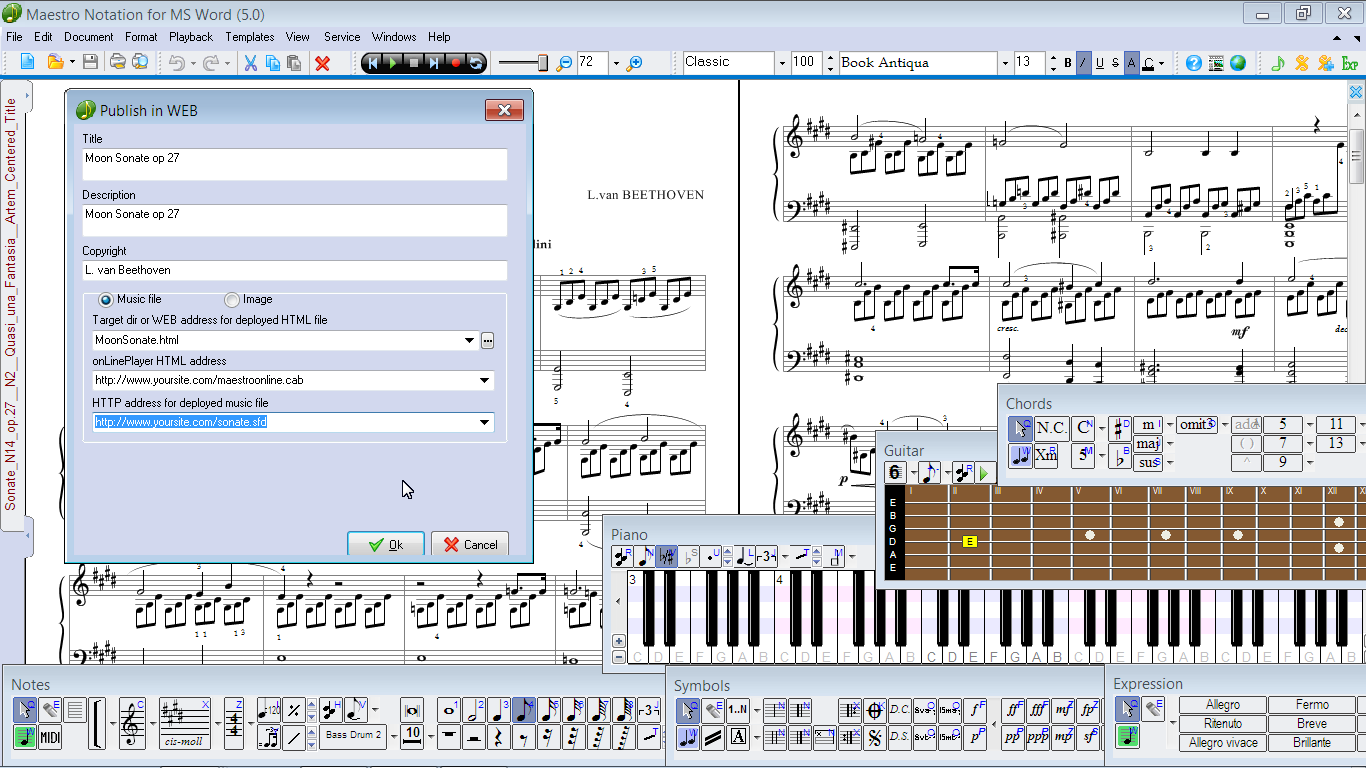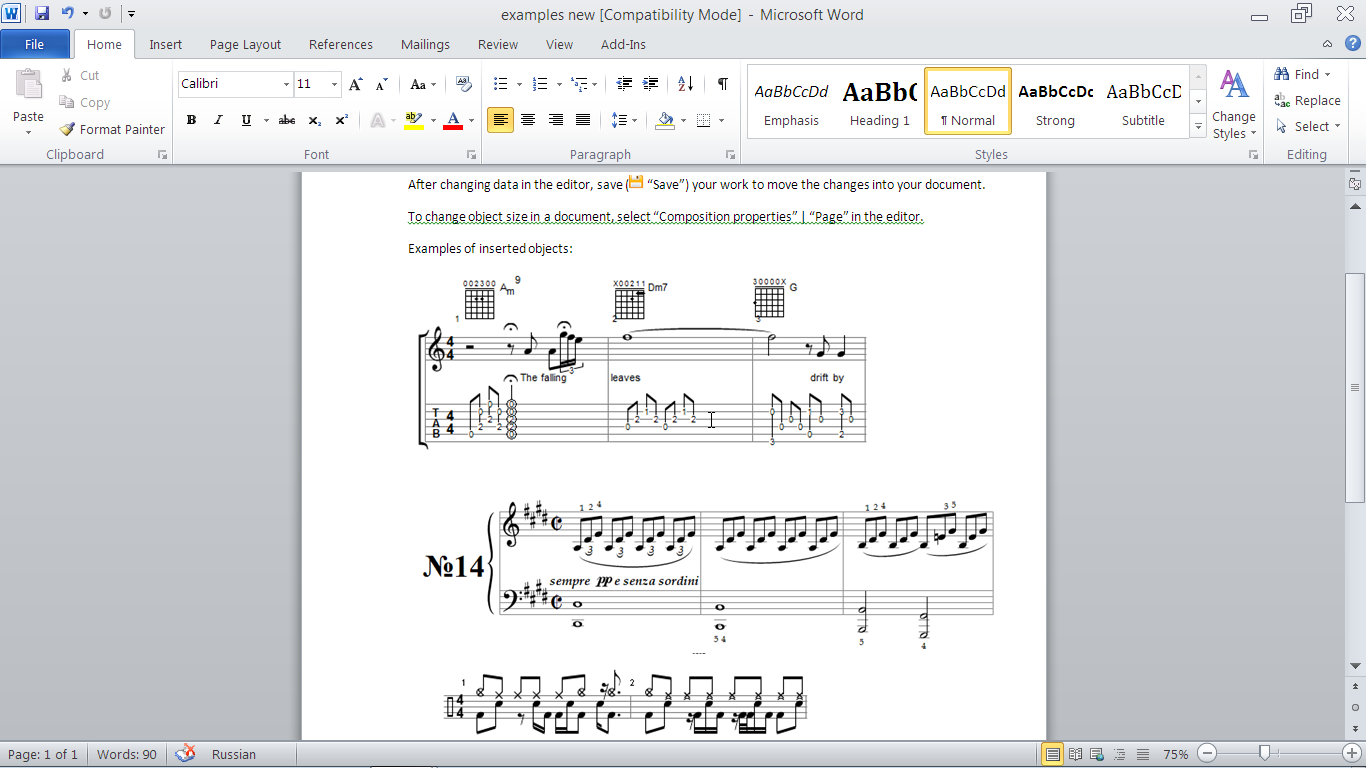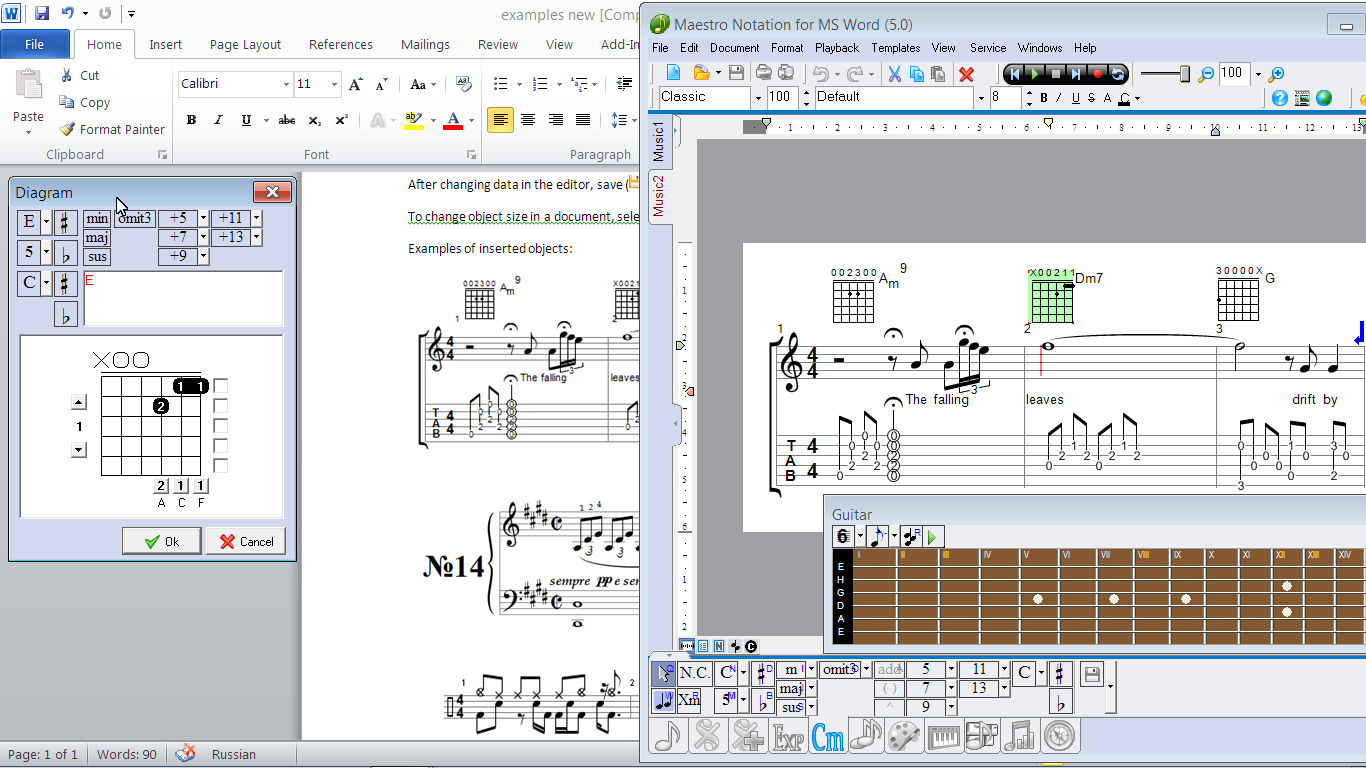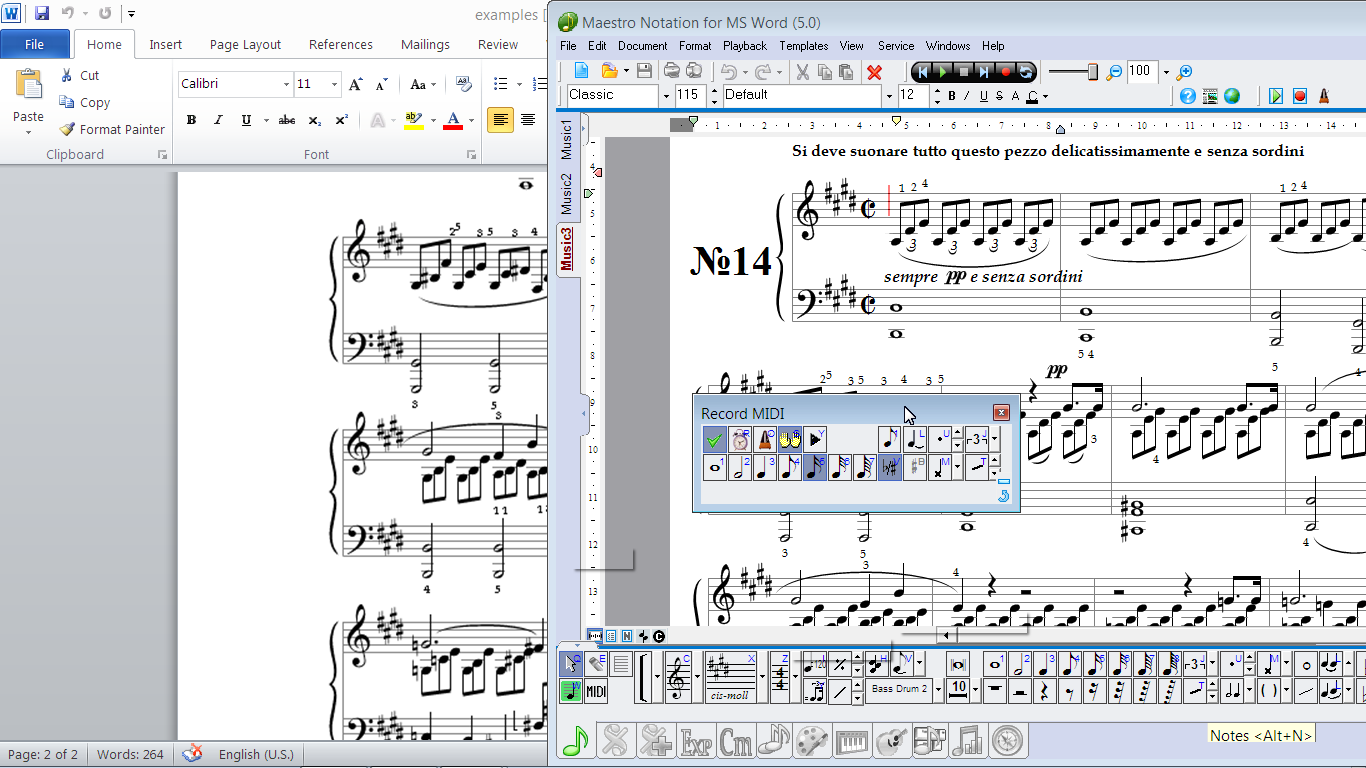 How Does MagicScore Notation for MS Word Work?
With our software there is no need for copying and pasting image files. To add a piece of music notation to a MS Word document all a user has to do is place a MagicScore Notation object add-in into the document using a toolbar button or the Insert->Object menu inside of Word. Once the music has been added simply click on the part of the music that needs to be changed, edit that music in the editor window, then close the editor and your changes will instantly be placed back into the Word document. Once embedded in the document the music will be visible by anyone, even if they do not own the MagicScore Notation software. Anyone with access to Microsoft Word will be able to open, view, and print your documents and music on any computer.
The Fastest And Easiest Way To Create Annotated Musical Documents
MagicScore Notation for MS Word works within Word itself allowing you to add anything from a single note to an entire page of music inside of any word processing document, thereby opening up dozens of different possibilities for musical expression, instruction, and publication. Here are just a few examples of what you can do with MagicScore Notation for MS Word:
Create customized music worksheets by laying out the questions in Word while creating the music to accompany those questions inside of MagicScore Notation for MS Word's scoring tool.
Create custom scale sheets and exercises for each instrument in an ensemble with just one document. Create the instructions and comments in Word then add the scales, arpeggios, or other music using MagicScore Notation for MS Word. Print the worksheet then quickly transpose the music to other key signatures and clefs for any other instruments you might need.
Quickly create quizzes and composition assignments simply by dragging and dropping blocks of music around the page.
Make music posters for your room to demonstrate musical concepts, key fingerings, etc.
Easily make flash cards to teach almost any music theory skill.
Make extensive notations in your music to point out how to play any special fingerings or extended techniques.
Make comments suggesting improvements to a piece of music, allowing the user to fix errors or clean up sections of the music before it goes to print.
Combine MS Word tables, charts, formulas, text, and more with music notation to create almost any document that you could possibly need.
Flexible Input Options
Use our Quick Input feature to speed through writing your entire composition or use a mouse along with a variety of other note entry methods such as step time and real time note entry with a MIDI keyboard. Pianists and guitarists may also benefit from using specialized note entry options such as our on-screen piano keyboard or virtual fretboard.
Quickly drag and drop articulations, dynamics, tempo markings, anywhere in the score and easily attach those markings to any note or measure with a single action of the mouse or keyboard.
Listen to your music complete with dynamics and articulations over your speakers or headphones.
Easy To Use Arranging Tools
Write music in clean, crisp notation using flexible templates, multiple articulations, and dynamics while having access to an unlimited number of staves and measures in each score.
Customize any of our predefined ensemble templates or choose from dozens of instruments and staff configurations.
Score markings like guitar fingering diagrams and tablature are added to any note or chord with a simple click of the mouse.
Multiple Output Options
Place music notation directly into Microsoft Word documents and save it in DOC format for unsurpassed compatibility and ease of use.
Print your documents complete with any annotations or instructions directly from within Word.
Save completed scores in MagicScore Notations native SFD music notation format or as MusicXML, Karaoke, or PDF files. You can also export your music as an image file (TIFF, BMP, PNG, GIF, JPEG, WMF).
Publish your music to the Internet using MagicScore Notation along with the free MagicScore Online utility. Viewers can then transpose it into other keys, print it, or play it back over the computer's speakers.
Use exported MIDI files in many popular sequencing and sampling programs.
Quickly create different layouts for each member of the ensemble using our handy part extraction tools.
A Detailed and User Friendly Help System
Help system can be customized to any of nine different languages.
Our innovative contextual help system can help guide you through the process of creating your compositions.
Helpful online video tutorials and training videos.
Free web based support forums.
Free E-mail support.
Printed manuals.
MagicScore Notation for MS Word also works unofficially in Open Office and other programs that support OLE (object embedding).
If you require access to more traditional, stand-alone music notation software without the MS Word embedding features we would suggest taking a closer look at our MagicScore Notation program. For those who require more advanced editing capabilities such as the ability to change individual MIDI note velocities and to save your compositions as MP3 or WAV audio files please consider our flagship product, MagicScore Maestro.
As a special promotion, any customer purchasing MagicScore Maestro or Maestro Notation can also purchase Maestro Notation for MS Word at 50% off the retail price.
System requirements
MS Word XP, 2003, 2007, 2010, 2013, 2016
Windows 10, 8, 7, Vista, XP