Buy MagicScore Guitar and Music Notation Software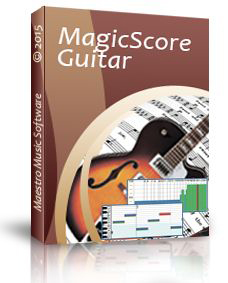 We accept all major credit cards, checks, bank transfers and PayPal via secure online processing. Your purchase is fully secured by our e-commerce provider.
By purchasing the full version of MagicScore Guitar, you receive:
Fully featured tab and music notation software for guitarists
The ability to create and edit music the way you want it
Full printing support
High quality playback
The ability to export scores as high-quality audio
The ability to share your music
Free technical support and free advise with your music projects
Free minor updates and deeply discounted major upgrades
* If you do not require the Extended Download Service, you can remove it from the ordering page. Due to the technical limitations of our secure online ordering platform we cannot do it on our side.
** If you require a hard copy, you can receive the product by mail on a CD by selecting the Add a Backup CD option.