User interface

Main menu.


Contains commands for working with files, the clipboard, score management, recording, playback and navigation.
Main menu icons.


Duplicates main menu commands for quick access.
Project window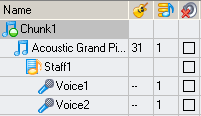 Lists part systems and voices of each staff in the score. Allows entry of names, MIDI instruments (for parts or voices), channel numbers and muting of parts or voices.
Music items, editing tools and information entry


Contains groups of buttons for note, symbol and expression entries, a virtual piano, virtual guitar harmonies, tools for editing the staff and its symbols, and a navigator for the score.
Any panel could be represented as a separate window. Select needed one and press 

 button. You can turn panels on and off in «Windows» | «Tools» or on control tool panel.